Throughout this web site, I refer to a British company called BCL and the range
of computing devices they designed, manufactured and sold from the early
1970s until the mid-1990s.
In fact, there was no single company called BCL, but
rather a series of companies that each took up the baton in maintaining a range
of computers and looking after their users. So when I refer to BCL as a shortcut,
the precise business I am referring to depends upon where we are in this history.
The heyday of BCL runs from 1961 until 1974 in the form of Business Computers
Ltd, and then from 1976 until the mid-1990s as Business Computer (Systems) P
lc.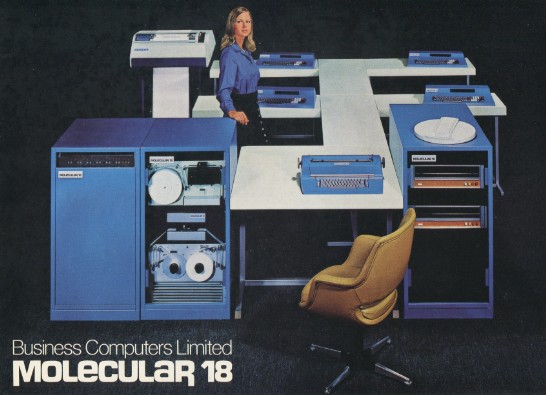 While the popular name for the business remained BCL throughout its life,
each successive business had quite different goals and different philosophies.
After marketing a series of electronic machines dedicated to limited accounting
functions, BCL produced a general-purpose mini-computer in 1971 and initially
regarded itself as a part of a group of worldwide manufacturers of computers
for industry and commerce. That business model changed quickly when the
company realised that they were not able to keep up with other manufacturers,
especially those in the US, and the company concentrated instead on supplying
business solutions with bundled application software (so-called 'turnkey
systems').
From 1976 on, BCL was quite a different company: it was sales led and
used the mini-computer they had inherited as a vehicle for new sophisticated
applications which they sold into a known and understood marketplace.
Apart from the physical appearance of the machine, the Molecular 18 did not
change fundamentally from when it was designed in 1971 until it stopped being used by customers in the late 1990s.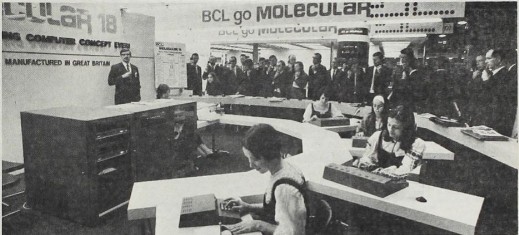 There will be mistakes and omissions here without doubt.
If anyone can add to the information PLEASE let me know.
Of course, if you have a Molecular 18 in the garage
or other BCL related artifacts or documentation, please let the museum know!!
Immediate needs: A Molly engineer to help us bring a Distributor back to life!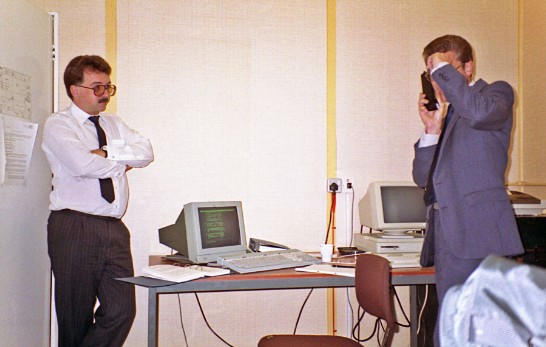 We were all a lot younger when we worked for BCL! I was about 30 when this picture was taken. The colleague on the right (with the very early mobile phone) was Chris Green and he is talking a customer through a problem with their M18. No modems at this stage!
This picture (taken by Joe Templeman) was taken at Philip Harris Medical in 1992. Standard terminal, with what looks like COBOL on screen, and an Apricot PC alongside. Philip Harris would have by then moved to a Unix based system. Chris wrote the new sales system.