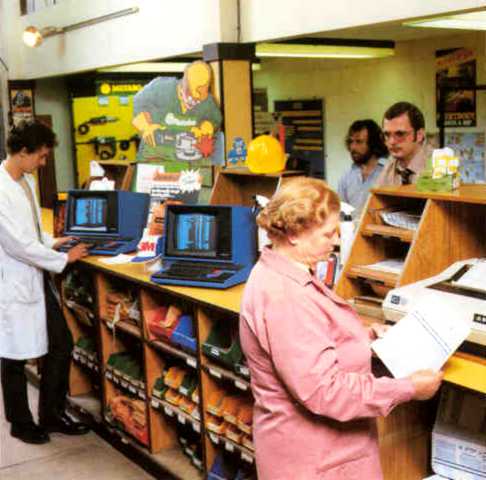 Moving Into the Computer Age
"PREPARATION IS HARD WORK BUT NOW THE BENEFITS ARE TREMENDOUS"
The decision to incorporate a computer system into their products and processes is one that most distributors are having to face at some time or another. ED spoke to Jackdaw Listers (Tools) Ltd, of Leveson Street, Willenhall, West Midlands, an AED member and a business which is typical of many companies engaged in the distribution of engineers' supplies to industry. In this article Mr Gordon Pearson, managing director discusses how his company tackled the project, and what it entailed.
It was in 1979 that Jackdaw Listers (Tools) started thinking about a computer. The company was profitable but if it wished to continue that way it was apparent to the directors that a move into computerisation was necessary, says Cordon Pearson.
Nobody in the company had any prior knowledge of computers. In 1978/79 the company employed a total of fifty-five people and on manual operation they had got it down to forty-four, which was the minimum they could hope for without recourse to computer operation. Now the employees number twenty-two on the merchant side including three representatives, a reduction achieved by natural wastage, and no extra staff have been needed to operate the system. "Everyone uses it quite happily", says Mr Pearson.
Incorporated into the system is an associate company, Jackdaw (Fasteners) Ltd, with fifteen employees, who are manufacturers and distributors of fasteners. It occupies nearby premises and has common administration.
At the start Mr Pearson and the company secretary looked at many systems over the course of a year, and ended with a short list of three systems. They did this by demanding certain requirements. The supplier had to take them to a user similar to themselves and they had to be left alone to talk with him. "It is essential to see other users", says Mr Pearson.
The company which filled these provisions was Business Computer Systems plc, of Borehamwood, Herts with branch offices at six other locations.
This company had a distribution system which had proved itself in similar businesses and it was in a position to take Jackdaw Listers (Tools) to see these in operation. BCL provided a totally integrated package which offers all the facilities one would expect, such as sales ledger, purchase and nominal ledgers and payroll and in the key operating areas of a merchant involved in wholesale distribution, such as stock control, fast order processing, buying control, price and discount information and instant and accurate management information.
"It seemed to be the system we wanted", says Mr Pearson. Accordingly the company decided on a 40k processor (40,000 words of storage), one disc drive, eight VDUs and three printers. More VDUs have been added since to make a total of eleven throughout the building and the capacity has been increased from 40k to 48k.
Space for the equipment was no problem. Only a small room was needed and this involved a minimal cost.
It was then that the hard work started, says Mr Pearson. Stock numbering and binning started in February 1981 and the management and staff put in a lot of overtime and weekends. "We had months of hard talking on the question of when and how".
The equipment arrived at the beginning of March and the system went "live" in June, five months of preparation all told. The company switched from manual on Friday and started on computer on Monday. All the staff had been fully instructed and were fully receptive to the new working. BCL did the programming.
Mr Pearson feels that the whole psychology of the business has changed for the better. The staff found their jobs more interesting and instant information was at their fingertips. Enquiries at the trade counter or on the telephone get immediate answers.
A perpetual stock inventory is provided, along with information on prices and discounts, credit standing of customers, sets of picking documents and ready invoices, all with less errors.
Savings have been made on postage and handling and there has been no increase in stationery costs. Sales can be increased on a lower stock holding.
Labour saving has been tremendous, says Mr Pearson and the speed of working is "devastating". The company still uses Luckin's price reporter service to update prices and one girl can do this on Monday in thirty minutes.
And the cost? Mr Pearson gave a figure of £70,000 all told which came out of their own profitability with one hundred per cent allowances. He says that they are looking at the system all the time to make the most of it and to update it.
The computer has become an every day part of working life, with a VDU at the elbow of virtually every employee in Jackdaw Listers (Tools) Ltd.
It is now Jackdaw Listers (Tools) turn to be visited by similar firms looking at computers for the first time. The company accepts about two visits a month, but Mr Pearson feels it provides a useful exchange of ideas.
REPRINTED FROM ENGINEERING DISTRIBUTOR MARCH 1983